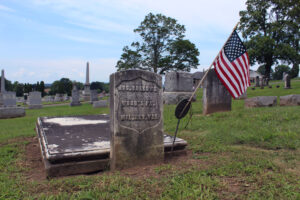 Resting peacefully along the rolling hills of Montoursville, the cemetery encompasses more than 50 acres of beautifully manicured grounds and is comprised of 20,000 gravesites in all.
Rich with history, the Montoursville Cemetery welcomed its first occupants around 1867, when they accepted the transfer of several burials from a cemetery along the west bank of the Loyalsock Creek. At the time, the Catawissa Railroad Bridge was being constructed, requiring the removal of those laid to rest on the creek bank. Revolutionary War veteran and founder of Montoursville, General John Burrows and his wife Mary were among the many to be relocated to Montoursville Cemetery. The cemetery has since celebrated its 100th anniversary in 1967.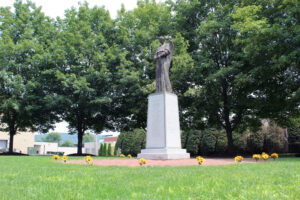 General Burrows isn't the only veteran Montoursville Cemetery holds dear – the cemetery is the final resting place of more than 2,600 veterans to date. Visitors are welcome to visit the Eugene Graffius Post memorial stone and plaque, honoring the memory of those killed in the First and Second World War, as well as the Korean War. Additionally, not far from this monument is the beautiful veterans' memorial wall, which displays the names of more than 150 veterans and is the site of the annual Veterans' Day Ceremony, which the cemetery has sponsored for over 10 years.
Also interred at the Montoursville Cemetery are the 16 students and 5 adult chaperones of the Montoursville French Club who tragically lost their lives July 17th, 1996. The club was on their way to Paris when TWA Flight 800 went down over Long Island, killing all 230 on board.